GENKAKU-AGAIN (adam fisher)
Sunday, November 23, 2014
Taking its cue from the United States, perhaps, or from historical trends that refuse to be silenced...
(Reuters) - Japan's military is wooing new recruits with images of smiling soldiers posing like pop stars in a series of photo books and DVDs that tap into youth culture.
Glory, adventure, heroism, patriotism, doing what under civilian law might incur a long prison sentence or the death penalty ... how sexy and grown-up and powerful is that?!
Was it ever different?
Posted by

genkaku
at 8:55 AM
No comments:


Saturday, November 22, 2014



MIAMI (AP) --

A Saudi citizen

who has spent the past 12 years detained at Guantanamo Bay has been released as the U.S. continues attempts to whittle down the prison population at its base in Cuba.

The Pentagon said Saturday that Muhammad al-Zahrani was sent to his homeland based on the conclusion of a parole-like board that has been re-evaluating whether it is still necessary to hold some of the men as prisoners.

Al-Zahrani will take part in a Saudi rehabilitation program for militants.

He is the 13th prisoner released from Guantanamo Bay this year and the seventh in just the past two weeks. Officials have said there will be additional releases in the coming weeks as part of a renewed push to close the prison where 142 men are now held.
The vagueness of this 'news' story is mind-boggling. 1. Held for 12 years without any judicial redress? 2. What specific charges were made and who underwrote the legitimacy of those charges? 3. On what basis did someone suggest "rehabilitation" might be attained? ... oh hell, pose your own questions.
Put yourself in Al-Zahrani's place. Imagine you no longer lived in the United States and had a right to judicial hearing. Then compare the reaction to 'terrorist' arrests of those even thinking about violent possibilities or philosophies in the United States.
Perhaps there was a good reason to "detain" (imprison) a man for 12 years. But without stating those reasons, without saying much more than "trust me," the incarceration speaks poorly of prospects for American citizens.
Posted by

genkaku
at 8:47 AM
3 comments: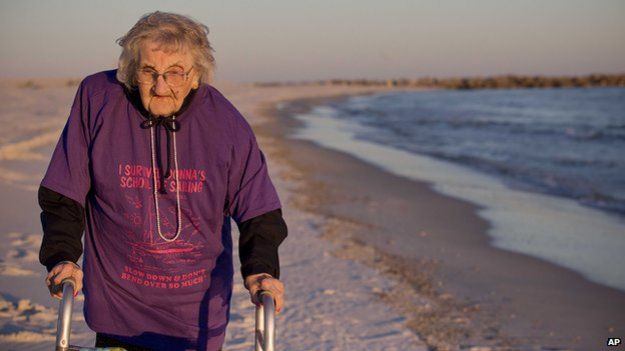 A 100-year-old woman got her wish and
saw the ocean for the first time.
With four children, Ruby Holt had always been too busy picking cotton and working in a shirt factory and trying to make scanty ends meet in Tennessee.
"I've heard people talk about it and how wonderful it was and wanted to see it, but I never had the opportunity to do so," she said....
"We don't have nothing like this in Giles County."
Seeing the obvious for the first time -- what a pleasure.
Posted by

genkaku
at 8:07 AM
No comments:


Not that it can hold a candle to the U.S.'
ramping up of combat operations
that were supposed to be on the wane in Afghanistan, but this week, a call from the doctor's office fixed the date on which I will have an operation on the nodule on my right lung -- a nodule whose exact cause cannot be named, but must be labeled cancer even if no one knows for sure.
Dec. 1 has been set for the "procedure" which is an operation with a nice name. For four or five weeks, there have been tests for this and tests for that to make sure the heart and body can take the stress involved in the operation. Now, although the heart is less than it might be, the decision has been rendered to take a wedge-shaped bit of lung, together with the nodule which can only be biopsied after it is removed:\.
There is no need to open the entire chest, as I understand it. The tests that preceded and kind of danced around the actual problem are now pretty much over and I am grateful: The downside of having the specific operation (statistically I gather it has a 95:5 life/death batting average and I gather it hurts a bit) begins to pale when I go for one test after another without actually going after the offending arena. The scariest part, to the extent that there is one, is any time I have to spend in the hospital, a place I have come to see as exerting a negative effect on anyone's spirit.
"Comparisons," the old saw once had it, "are odious," but it is hard not to somehow compare my life with the life of those who are in the line of fire at the whim of governments and politicians that can see the upside of perpetual war. It is hard not to indulge in a bit of odiousness.
Oh well, maybe a shower will help.
Posted by

genkaku
at 7:04 AM
1 comment: